How Often Should You Rotate Your Tires?


You should always check your vehicle's manual, but most tires need a rotation every 5,000 to 7,500 miles. It really is that simple, though there are some intricacies to rotating tires on a vehicle with rear- or all-wheel drive and other details you should know about tire rotations — and your St. James-area service center is here to help.
When to Rotate Tires on FWD and RWD Vehicles
A front-wheel drive vehicle like a Kia Soul sends its power from the engine to the front wheels. What this means is that these wheels do more work while the rear wheels simply roll along — it means they wear faster. As you can probably guess, a rear-wheel drive tire rotation is necessary for the same reason — the rear wheels wear faster. Some things to keep in mind if you're a Springfield driver rotating their own tires:
A FWD or RWD car will need its tires rotated every 5,000 to 7,500 miles, or as recommended in the owner's manual.
When rotating your own tires, you move the front tires straight back, but on a front-wheel drive car, you cross the rear tires to the other side — your rear driver tire becomes your front passenger tire. This helps even the wear from turning.
Rear-wheel drive cars are the opposite: move the rear tires straight up to the front on a RWD car, but cross the front tires as they go back.
The mileage estimate is just a guide. You should rotate your tires more often if you spend time on rough terrain or notice uneven wear — our Rolla service center can help you determine a schedule.
AWD Tire Rotation Tips
If it's 5,000 – 7,000 miles for FWD and RWD, it must be the same for AWD, right? Guess again. 4WD and AWD vehicles send engine power to all wheels, and that means you can expect them to wear faster. Always check your manual, but a good rule of thumb for AWD tire rotation is 3,000 to 5,000 miles.
If you're not sure how long it's been since your last tire rotation, you can always schedule service at Kingdom Kia. We'll check tread wear differences to see if it's time for a rotation. Most tires require rotation once the tread variance is over 2/32 of an inch — you can check your own tread variance, too.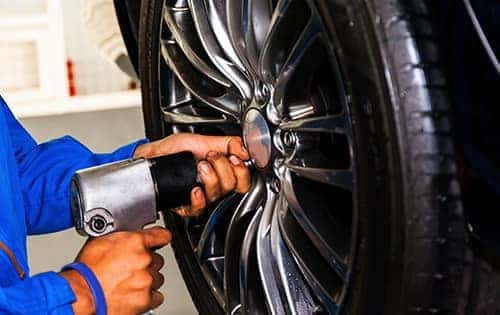 Why Rotate Tires?
Many drivers know to rotate their tires, but some still aren't quite sure why. We hope you've figured out by now that you rotate your tires to minimize/even out any wear and tear. It also provides:
Less stress on the drivetrain
Better traction on slippery roads
Quieter road noise
Regular tire rotations are also the only way to hit those mileage estimates from the tire manufacturers — that's right, tire rotations can help extend the life of your tires and save you money.
Turn to Kingdom Kia for Tire Care Advice
For more information about what an alternator does, caring for your tires, identifying and changing your transmission fluid, or checking your oil levels, contact Kingdom Kia today. We'll let you know all you need to know about tire care so you can drive with confidence around Jefferson City or St. James
Service Specials From Kingdom Kia
More Auto Service Tips From Kingdom Kia
Spark plugs may be tiny in size, but they are a major component to the function of your new or used Kia vehicle. And, like many other vehicle maintenance practices, spark plugs must be replaced as you continue to use your car. But, just how often should you change your spark plugs? Well, a good…

If you're one of the many St. James drivers wondering, "Why is my car leaking water?," you'll be glad to know that you're not alone. First off, if your car is leaking water, this is not as serious a problem as you might have guessed. When your vehicle is activated, the car's air conditioning system creates…

An alternator is an essential component to your vehicle, but are you familiar with its actual function? The alternator is the common unsung hero of your vehicle as many drivers can easily think that the battery powers the car, it's only used to start it. It is responsible for sending power to the car's electrical…