What Color is Transmission Fluid?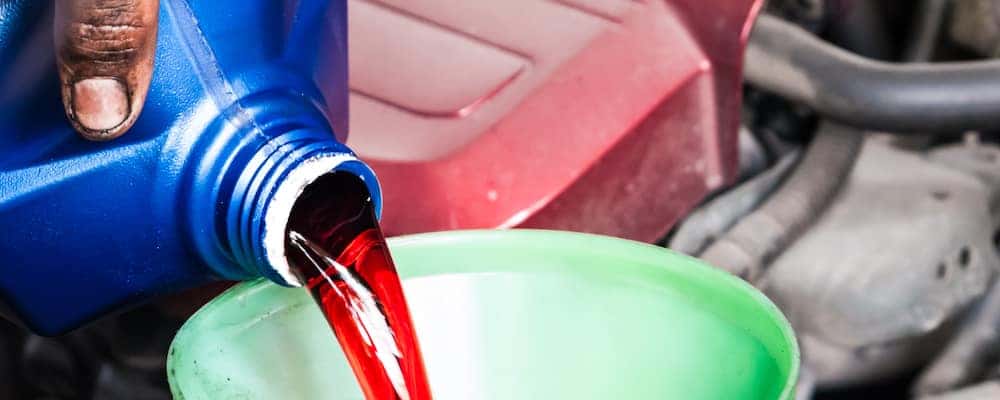 Transmission fluid is dyed specifically for identification purposes, and knowing the color of transmission fluid is important for correcting dangerous malfunctions before they stop you in your tracks. If you keep up with routine maintenance, you may not ever need this information, but you should know it. In new vehicles, transmission fluid is a dark, semi-translucent red, but it often darkens further with vehicle age and usage.
Transmission Fluid Color Guide
Transmission fluid color doesn't just indicate age and usage. It can also alert you to serious problems with your car. Use this transmission fluid color guide to find out when to visit a service center near St. James or Springfield:
Brand-new fluid, Safe for Usage: Dark red
Normal, Safe for Usage: Darker brick red
Service Recommended: Deep blood red/rust red
Immediate Service Required: Burnt/almost black
Red Fluid Leaking From Car
If you notice red fluid leaking from your vehicle, don't wait for the problem to solve itself. Contact our Rolla service center to find out why you're losing transmission fluid!
In most cases, the red color of transmission fluid makes it easy to tell what your problem is. If you want confirmation before you contact your local Rolla service center, there are several other techniques you can use to pin down the source of the leak:
Odor: New and lightly-used transmission fluid smells like petroleum, but if it needs to be changed, it will smell burnt.
Consistency: Transmission fluid is oily, slick, and viscous. It's similar in consistency to engine oil or brake fluid.
Location of leak: Transmission fluid tends to pool up beneath the front end of the car.
Get Ahead of Transmission Problems
It's essential to equip your vehicle with the right automatic transmission fluid and to use only genuine OEM Kia parts. Check your owner's manual for full details.
Most technicians, including those at our service center, will check your fluid levels as part of regularly scheduled maintenance. Your owner's manual will show you the right schedule to follow if you check at home.
To get the service you need for less, take advantage of our rotating Kia auto service coupons.
Rely on Kingdom Kia for Your Service Needs
Learn more about what an alternator does, why is my car leaking water, how to clean the inside of your windshield, or how you should change your transmission fluid. If you notice a red fluid leaking from your vehicle, or you've seen that your transmission fluid is too dark, schedule service with us today. Our service center is located just a short drive from St. James and Springfield, and our trained technicians can get you in and out in no time. Contact us today to learn more about everything from auto service to used car leasing.
More From Our Service Department
Spark plugs may be tiny in size, but they are a major component to the function of your new or used Kia vehicle. And, like many other vehicle maintenance practices, spark plugs must be replaced as you continue to use your car. But, just how often should you change your spark plugs? Well, a good…

If you're one of the many St. James drivers wondering, "Why is my car leaking water?," you'll be glad to know that you're not alone. First off, if your car is leaking water, this is not as serious a problem as you might have guessed. When your vehicle is activated, the car's air conditioning system creates…

An alternator is an essential component to your vehicle, but are you familiar with its actual function? The alternator is the common unsung hero of your vehicle as many drivers can easily think that the battery powers the car, it's only used to start it. It is responsible for sending power to the car's electrical…