What Does an Alternator Do?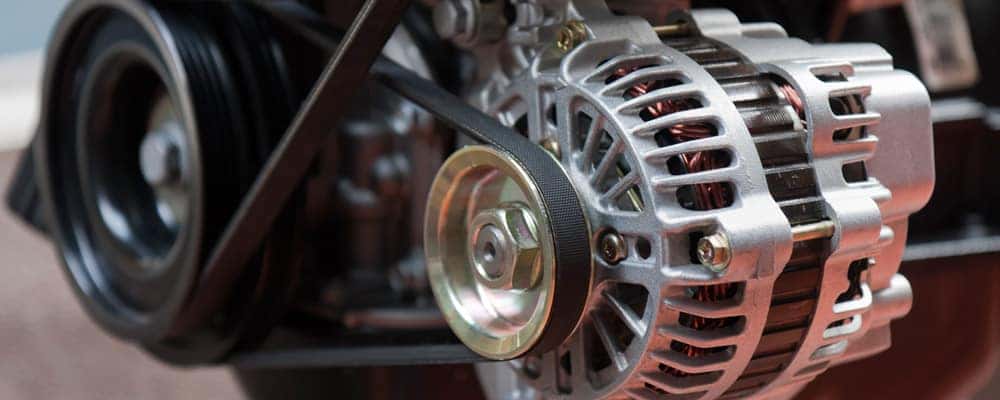 An alternator is an essential component to your vehicle, but are you familiar with its actual function? The alternator is the common unsung hero of your vehicle as many drivers can easily think that the battery powers the car, it's only used to start it. It is responsible for sending power to the car's electrical system while the car is running and works as a generator, using the gas engine as its source of energy.
Common Alternator Problems
So now that you know what an alternator does and how it is vital to helping you stay efficient on St. James and Springfield roads, it's good to familiarize yourself with common signs that it may be time to replace your alternator. Keep an eye out for things like:
Battery warning light appearing on the dashboard
Dim headlights or interior lights
Burning rubber smell under the hood
Devices not charging
Whining or screeching sound after the vehicle has started
Unable to start
Failing Alternator vs. Battery
Since and the alternator is often confused with the battery, it can also be tricky for Jefferson City drivers to distinguish which actually needs replacing. In this instance, wait until the vehicle is unable to start and needs a jump and then jump-start the engine. If it dies once you remove the jumper cables, then you may need a new alternator. You can always have one of our experienced technicians take a look so feel free to schedule an appointment at a time that works for you.
How Long Does an Alternator Last?
In general, most alternators last about seven years, which can usually fall between 80,000 and 150,000 miles, but factors such as the following can cause it to wear out much earlier:
Alternator quality
Driving conditions
Power drain on the alternator
How Much Does it Cost to Replace an Alternator?
Different vehicles and brands require certain alternators so it's important to consider this when shopping around for a new alternator. If you're now in the market for a new alternator, you can always reach out to our service department who can give you a free estimate and replace it for you with parts designed for your vehicle.
Visit Kingdom Kia for a New Alternator
You can always replace an alternator yourself, or you can bring it over to our parts department and have the professionals take care of it for you. And, be sure to take advantage of our parts and service specials to help save even more You can even learn more about vehicle maintenance like, why is my car leaking water, what color your transmission fluid should be or how often to rotate your tires. Contact us with any questions or stop by our service center near Jefferson City!
We can even help you learn more about used car leasing!
Learn More from Kingdom Kia
Are you looking for a new compact SUV around Rolla? If so, the 2020 Kia Soul offers everything St. James drivers want at an affordable price. The newly redesigned 2020 Kia Soul is spacious and comfortable, making it stand out from the rest of its class. So, how much is a Kia Soul? Find the answer below, and…

St. James drivers love the 2020 Kia Telluride. So do we! Between the available seven-passenger seating with 2nd-row captain's chairs, leather seat trim, dual sunroofs, and a ton of other cool features, there are lots of features to love. And considering what the Kia Telluride costs, we think it's a bargain, too. You can see this gorgeous…

If you're looking for an SUV that's as advanced as it is affordable, the 2020 Kia Sportage is as popular as they come. However, safety is always important for drivers in and around St. James, so we're often asked about the Kia Sportage safety rating! Learn more about Kia safety ratings with our team at Kingdom Kia…